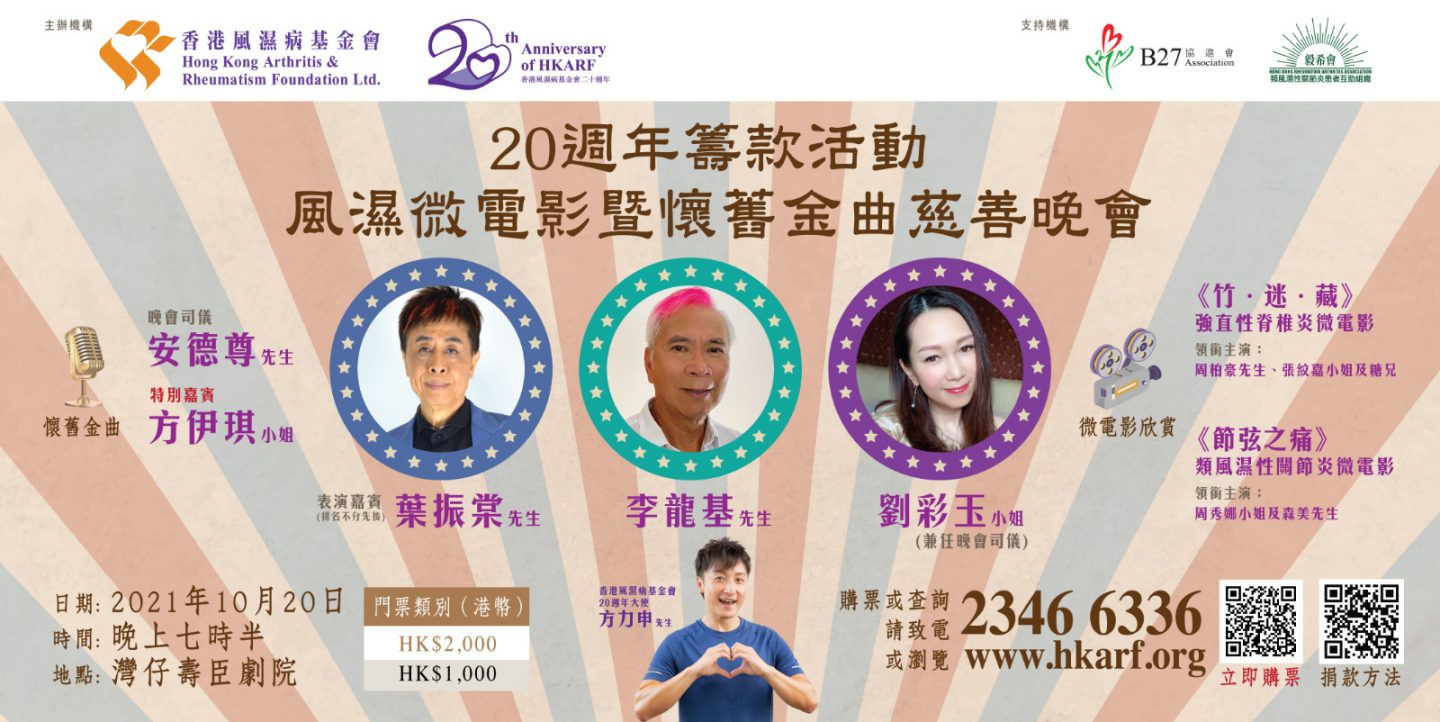 Founded in 2001 with its mission to improve quality of life of arthritis patients, Hong Kong Arthritis & Rheumatism Foundation Limited (HKARF) has been dedicated to offering comprehensive educational and rehabilitation services and providing financial and psychological support. HKARF held its 20th Anniversary Charity Gala on 20th October at Shouson Theatre. Over 400 rheumatologists, nurses, patient groups and volunteers graced us with their presence to raise funds for the good cause. The Charity Gala raised around one million four hundred thousand dollars to support the Foundation's future development.
It was an immense pleasure that the Chief Executive of Hospital Authority Dr. Ko, Pat Sing Tony bestowed us by being Guest of honor. A specular show was staged at the Charity Gala. Mr. Anderson Junior and Ms. Lau, Choi Yuk were the hosts. Famous performers Mr. Yip, Chun Tong, Mr. Lee, Lung Kei, Ms. Lau, Choi Yuk, and our special guest Ms. Fong, Yi Kei (listed in no particular order) performed live and evoked a nostalgia for golden songs of the past. Ms. Sit, Ka Yin recorded a short video to wish the Foundation a happy 20th birthday.
Two microfilms "SUPERWOMAN" and "竹.迷.藏" were made by HKRAA and B27 Association, respectively, were played on the screen. The cast of "SUPERWOMAN" includes Ms. Chau, Sau Na Chrissie and Mr. Sammy Leung. The cast of "竹.迷.藏" includes Mr. Chau, Pak Ho, Ms. Cheung, Man Ka Crystal, and Mr. Poon, Wan Fung. Both microfilms are heartwarming. They do exemplary jobs of showing the difficulties in arthritis and rheumatic patients and spreading awareness and education. The program was live streamed on YouTube. It was watched by more than 500 viewers.
In addition to the performances, many donors generously donated to support the good cause. Dr. Lee, Ka Wing the Chairman, Mr. Chan, Kar Lok the Vice Chairman and the Chairman of 20th Anniversary Fund-Raising Committee, and Dr. Ng, Kam Hung the Vice Chairman promised to continue to engage and empower arthritis and rheumatic patients to strive for better health.