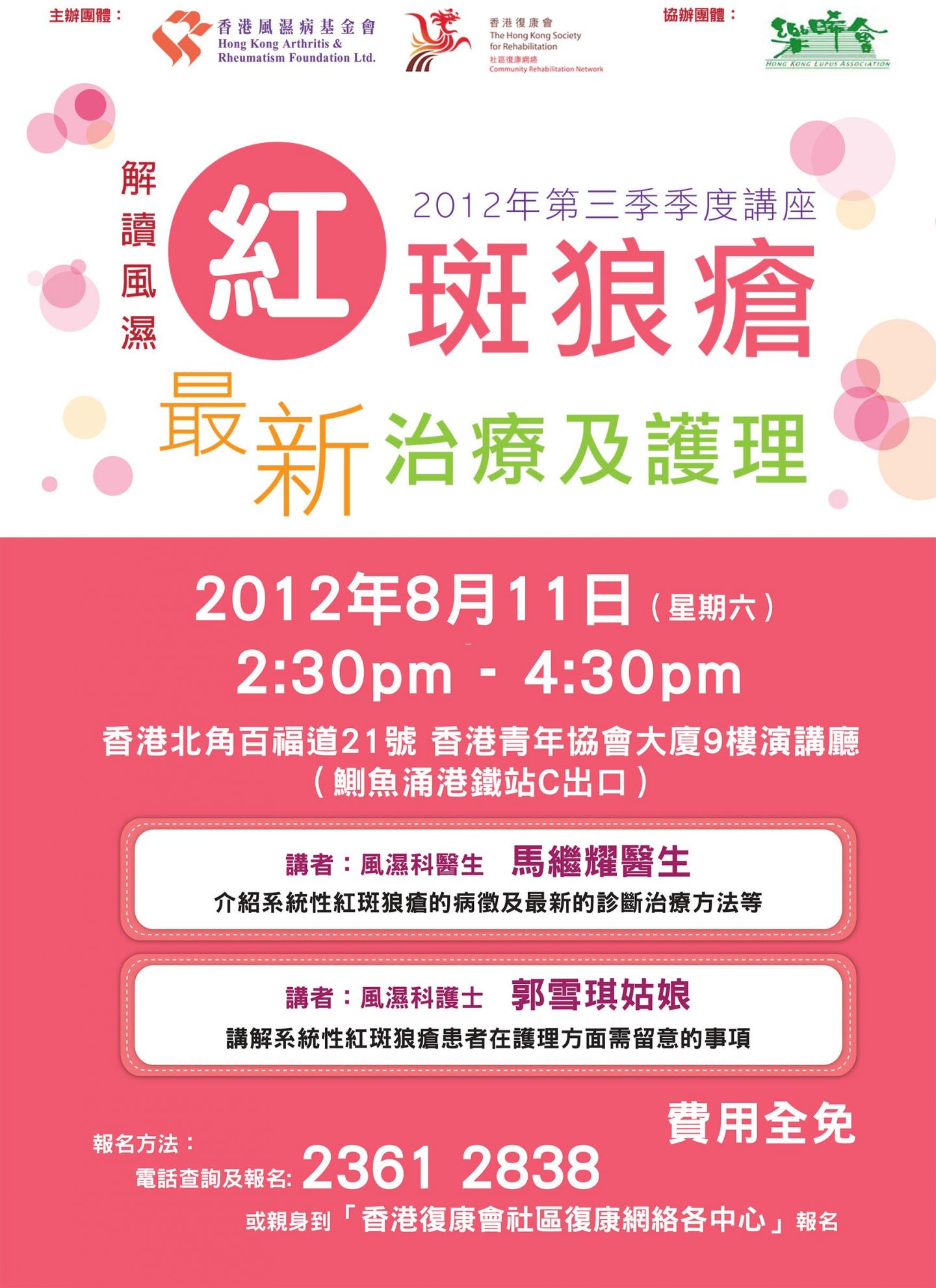 2012 Seasonal Talk – Systemic Lupus Erythematosus (SLE)
11 August 2012
The "2012 Seasonal Talk – Systemic Lupus Erythematosus (SLE)" was held at Auditorium, 9/F, The Hong Kong Federation of Youth Groups Building, on 11 Aug 2012. The talk aims to enhance people's understanding of the up-to-date information, including treatments and daily care, of SLE. There were 119 participants.
The talk started with a presentation conducted by Dr. MA Kai-yiu, a Specialist in Rheumatology, who illustrated the SLE symptoms with some photos, and provided a clear explanation of the remedies, including different types of medications and the new trend of treatments. Then, Ms. KWOK Suet-kei, a Rheumatology nurse, introduced the key points of daily self-care for SLE patients so that the participants can acquire the related knowledge.
After that, Ms. Elsa WONG, a Committee Member of "Hong Kong Lupus Association", shared her own experience of suffering from SLE – she recalled how she noticed of having SLE, how she received treatments and how she overcame the physical and psychological difficulties caused by the disease. She hoped that her own experience would be an encouragement for other SLE patients and their families.
Lastly, there was a Q&A session. Participants actively asked questions. Dr. MA and Ms. KWOK answered with patience to solve their doubts.
Please click below link to download the notes:
Dr Ma's powerpoint
Ms Kwok's powerpoint