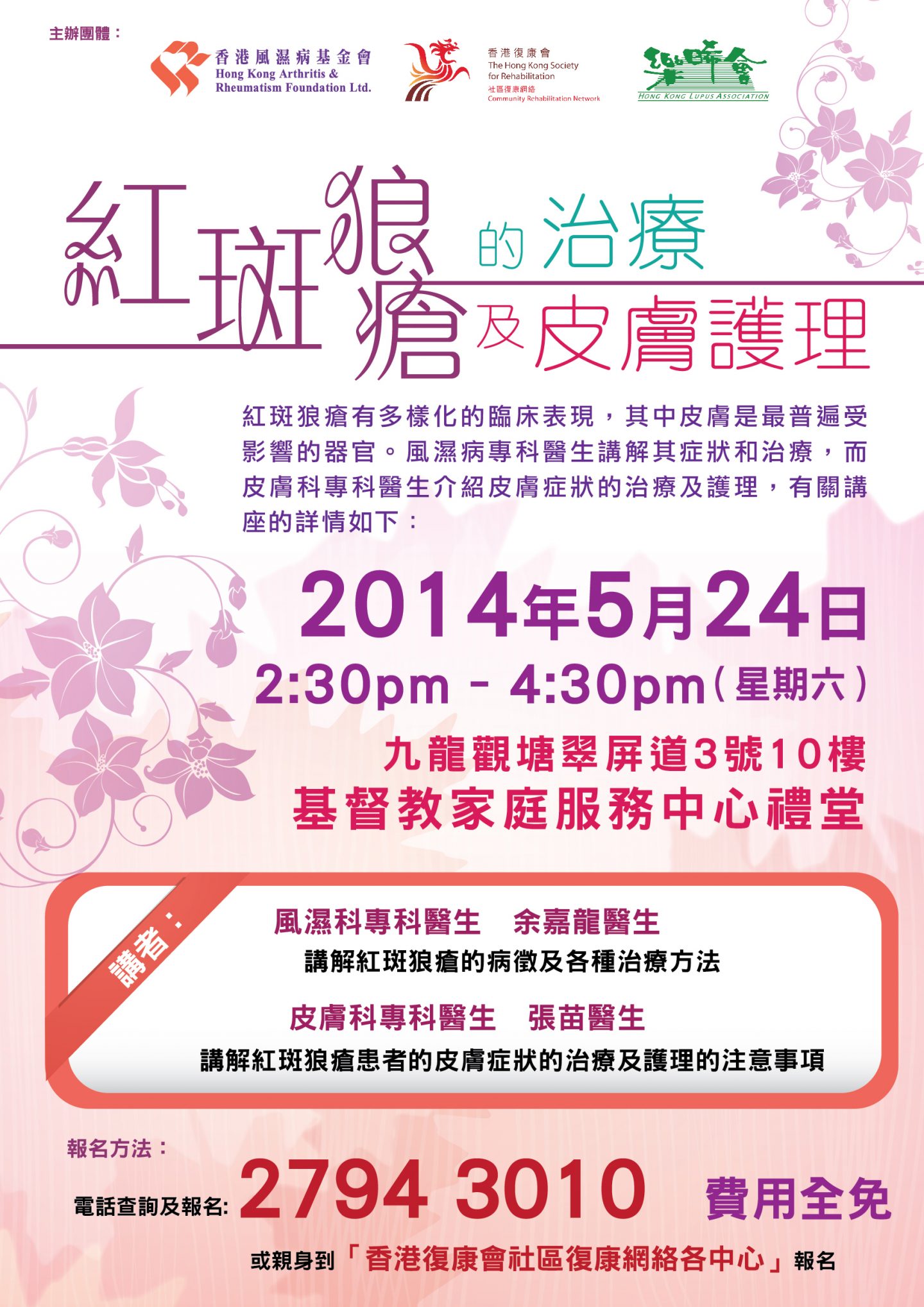 Seasonal Talk – SLE Treatment & Skin care
24 May 2014
SLE Treatment & Skin care Talk was taken part in the Auditorium of Christian Family Service Centre in Kwun Tong on 24 May 2014. The talk aimed to enhance people's understanding of the symptoms and treatment of SLE and the related skin care. There were 93 participants in total.
The talk was started by Dr. Carrel YU, a specialist in Rheumatology, to introduce the causes and symptoms of Systemic lupus erythematosus (SLE). Systemic implied the disease would influence the whole body while kidney was one of the most common affected organs. Dr. YU explained the five stages of kidney inflammation and reminded patients to carry out renal biopsy if required. He analysed the importance and risk of performing renal biopsy. He emphasized the test could help doctors to understand the kidney condition much better so as to develop a probable treatment plan. Moreover, he reminded the female patients to discuss with medical personnel if they hoped to give birth to babies. It was crucial to come up with a treatment plan that could minimize the influence on both mother and fetus.
Apart from this, the talk was continued by Dr. Mimi CHANG, a specialist in Dermatology, to introduce the classification and symptoms of different Cutaneous lupus erythematosus (CLE). Most SLE patients were photosensitive and thus photo protection was crucial. Dr. CHANG had illustrated different ways to protect the skin from UV exposure and gave advices on choosing suitable sunscreen and cosmetics. She also explained the correct way to apply external used ointment and hoped participants could enjoy the best effects of medication.
The talk then followed by a Q&A session where participants actively asked questions. Dr. YU and Dr. CHANG answered with patience to solve their doubts. The audiences found the information from the talk useful and showed great interested in medication and treatment on SLE.