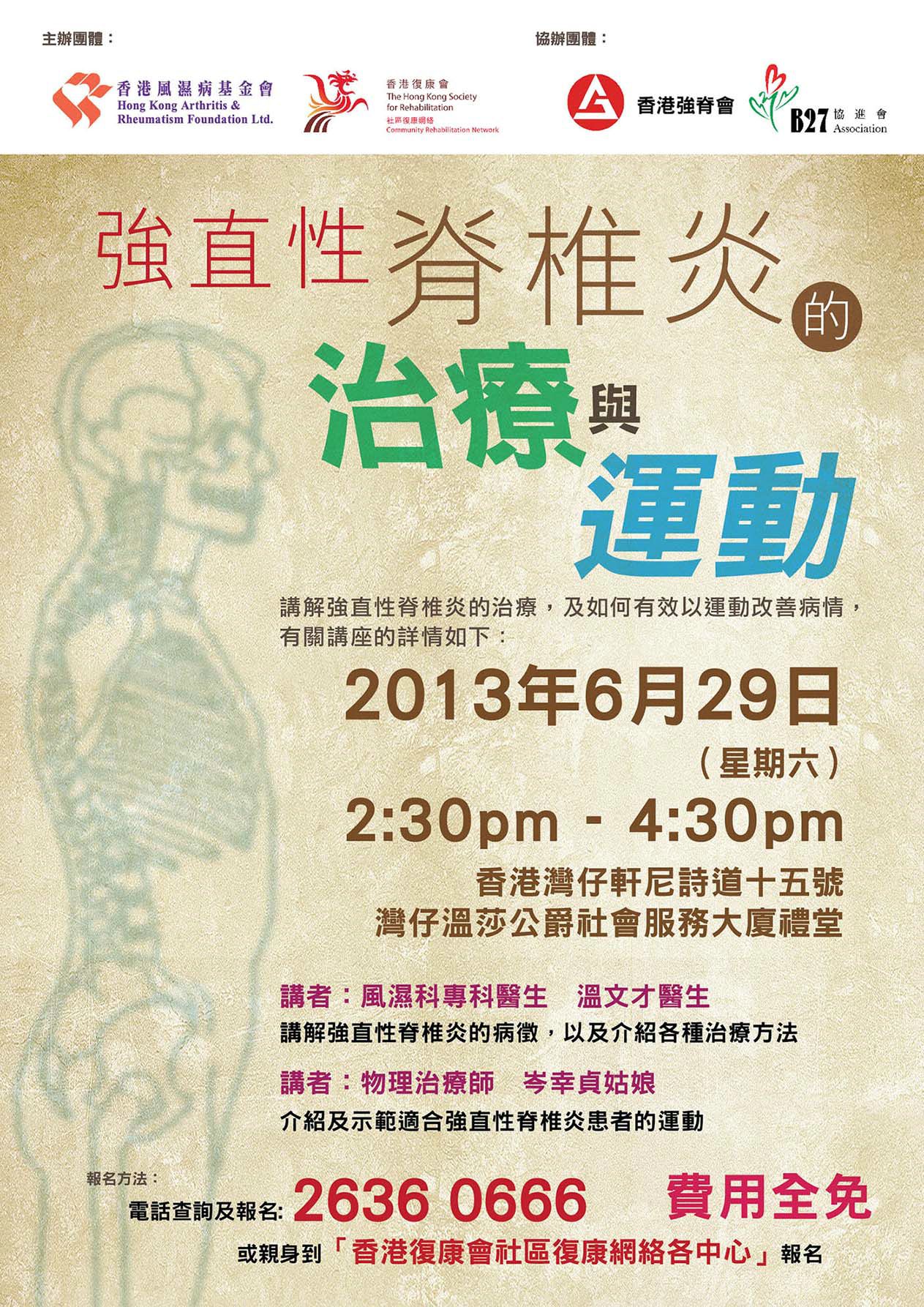 Ankylosing spondylitis – Treatment and Exercise
29 June 2013
The talk on the topic of "Ankylosing spondylitis – Treatment and Exercise" was taken part in the Duke of Windsor Social Service Building on 29 June 2013. The talk aimed to enhance people's understanding of AS and to emphasize the importance of exercise. There were 190 participants in total.
At the beginning, there was a brief introduction on the organizations of the talks to let the audiences know more about community service. Then, the talk was conducted by Dr. Timothy Wan, a specialist in Rheumatology, started from explaining the difference between AS and other back pain problems. Dr. Wan pointed out the change of spine and how it affected patients' daily lives. Besides, Dr. Wan explained the different treatment detailedly and introduced the application of the Samaritan Fund when using biologic agents.
Apart from this, the talk was continued by Ms. Irene Wong, a physiotherapist. Ms. Wong explained how physiotherapy could help to release pain and stiffness. Ms. Wong then demonstrated different exercise and led the participants doing together to ease the pains and keep the joints limber.
There were 2 AS patients to share their experience when suffered from AS. Both of them encouraged the audiences to stay positive and joined the activities from Patient self-help groups that could help to understand the disease more and release the stress by communicating with peers.
The talk then followed by a Q&A session where participants actively asked questions. Dr. Wan and Ms. Wong answered with patience to solve their doubts. The audiences found the information from the talk useful and showed interested in the home exercise.