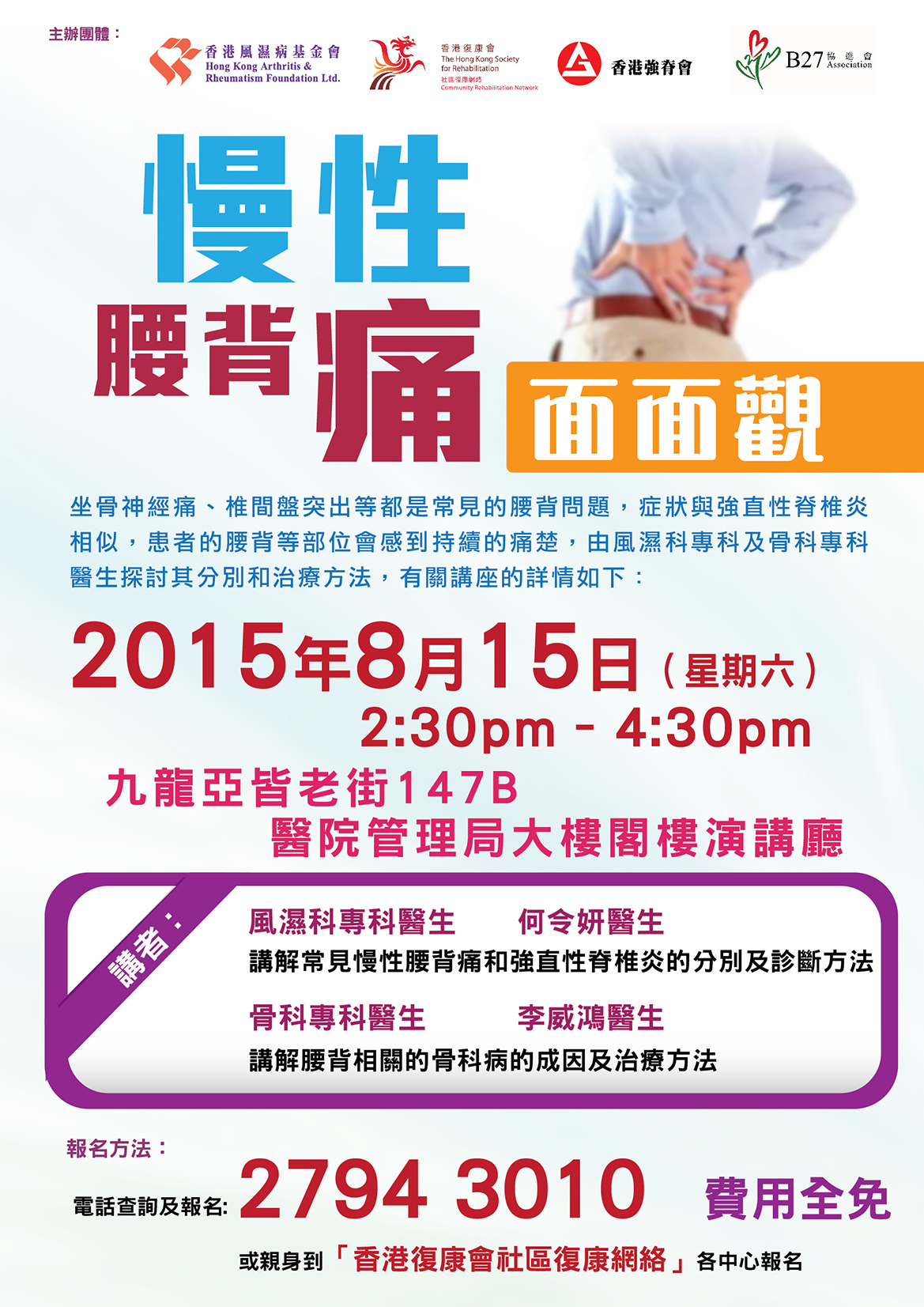 Educational Talk: Back Pain
15th August 2015
Educational Talk – Back Pain was taken part in Lecture Theatre, M/F, Hospital Authority Building, Kowloon on 15th August 2015. The talk aimed to enhance people's understanding on the difference of ankylosing spondylitis and common back pain. There were 228 participants in total.
Representatives from Hong Kong Ankylosing Spondylitis Association and B27 Association introduced their objectives and activities respectively. They urged patients to join and develop the spirit of mutual aid together.
The talk was started by Dr. Yvonne HO, a specialist in Rheumatology, to briefly introduce the common features of ankylosing spondylitis and further explained the difference in symptoms and diagnosis between ankylosing spondylitis and common back pain. Investing patients' history, doing clinical examination and blood tests were often used to confirm the illness. Many believed that having HLA B27 factor would develop ankylosing spondylitis. Dr. HO explained the cause of the illness was still unknown. Other than the HLA B27, genetic factors and environmental influence might also enhance the development of illness. Lastly, she shared several healthy tips and emphasized the importance of quitting smoking. Smoking would weaken the lung function and thus cause more frequent cough. Muscles at the back and waist would be stretched by the coughing motion and worsened the back pain.
Apart from this, the talk was continued by Dr. Chester LIE, a specialist in Orthopaedics & Traumatology, to explain the symptoms and treatment of common back pain. Dr. LIE first asked the participants if they even had back pain. Many raised their hands. Some research found that 50%-80% of the population would have severe back pain in their lives. Other than surgery and medication, there were several ways to ease back pain including maintaining a good posture, lifting up heavy objects in correct ways, doing stretching exercises, drinking less alcohol and quitting smoking. Finally, Dr. LIE shared some clinical cases and the corresponding treatments with the participants to enhance their understanding on the timing and condition of using that particular treatment.
Most participants were satisfied with the arrangement and content of the talk. They were interested in diagnosis and treatment of common back pain and hoped to participate to similar activities in the future.