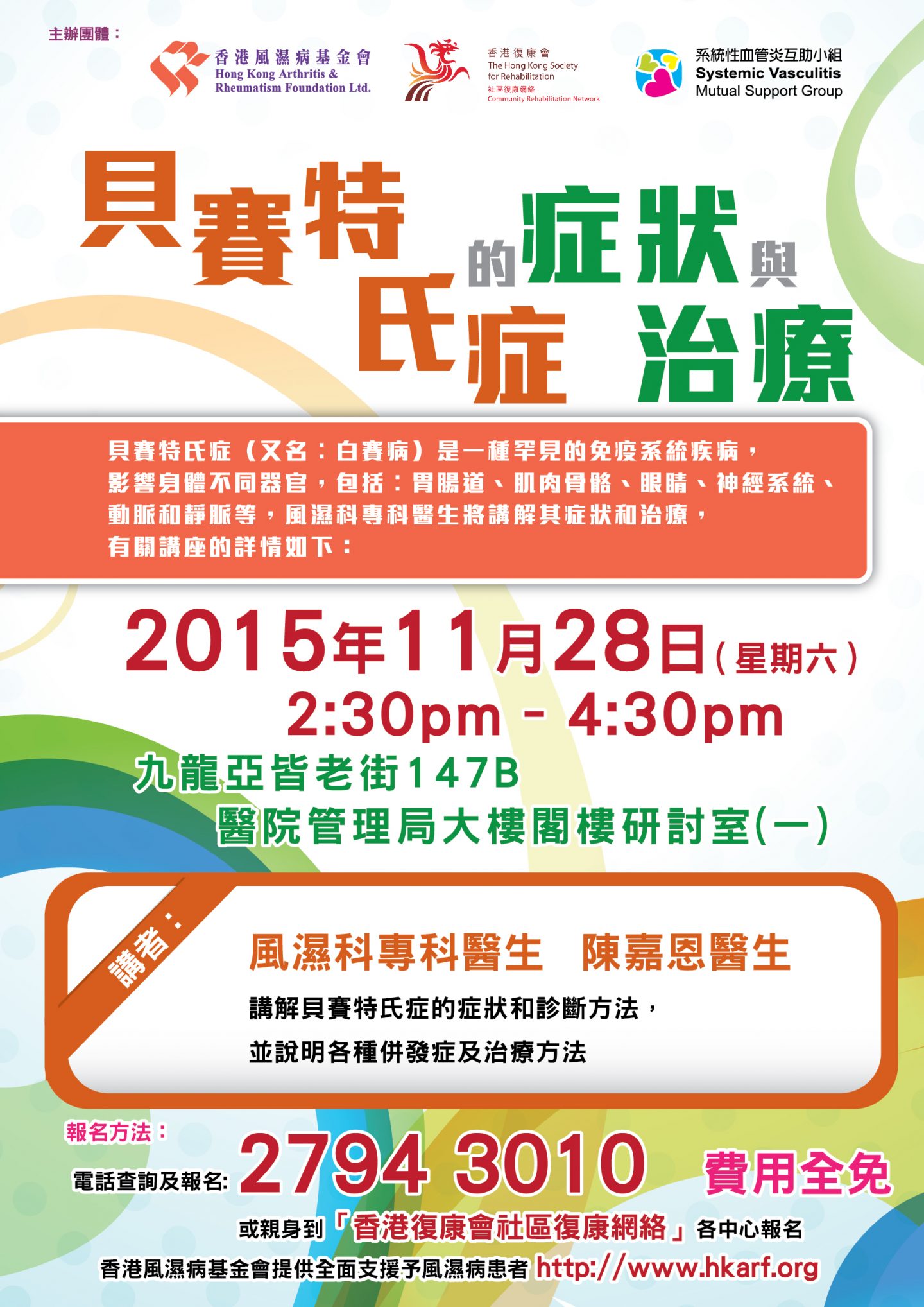 Educational Talk – Behcet's disease
28th November 2015
Educational Talk – Behcet's disease was taken part in Seminar Room 1, M/F, Hospital Authority Building, Kowloon on 28th November 2015. The talk aimed to enhance people's understanding on the diagnosis and treatment of Behcet's disease. There were 52 participants in total.
The talk was started by Dr. Helen CHAN, a specialist in Rheumatology, to introduce the basic information of Behcet's disease. It was a rare autoimmune disorder and the exact cause was still unknown. Genetic and environmental factors were believed to be significant to the onset of the disease. The diagnostic method of Behcet's disease was a bit different from the other autoimmune diseases. Patients should have oral ulcers with any two of the following symptoms, which were genital ulcers, skin lesions, eye inflammation or pathergy reaction. Dr. CHAN stated the common treatment of the disorder and further explained the reason and condition of using those medications. She focused on the application of steroid. Many were scared of this drug as the side effects were complex and severe. Yet, steroid was very effective and always prescribed under careful supervision of doctors. The severe side effects were resulted only when high dosage was continuously applied in a long period of time. Lastly, Dr. CHAN reminded the participants to be aware of personal hygiene and maintain a healthy lifestyle in order to protect the immune system. Also, facing pressure with a positive attitude was an important factor to reduce the chance of having a relapse.
Then, Ms. Clara WONG, the Convenor of Systemic Vasculitis Mutual Support Group, shared her experiences of rehabilitation and introduced the Group's objectives and activities to the participants. She urged patients diagnosed with vasculitis to join the group and develop the spirit of mutual aid together.
Most participants were satisfied with the arrangement and content of the talk. They were interested in this rare disorder especially the treatments and hoped to participate to similar activities in the future.
Please click here to download Dr. Helen Chan's powerpoint