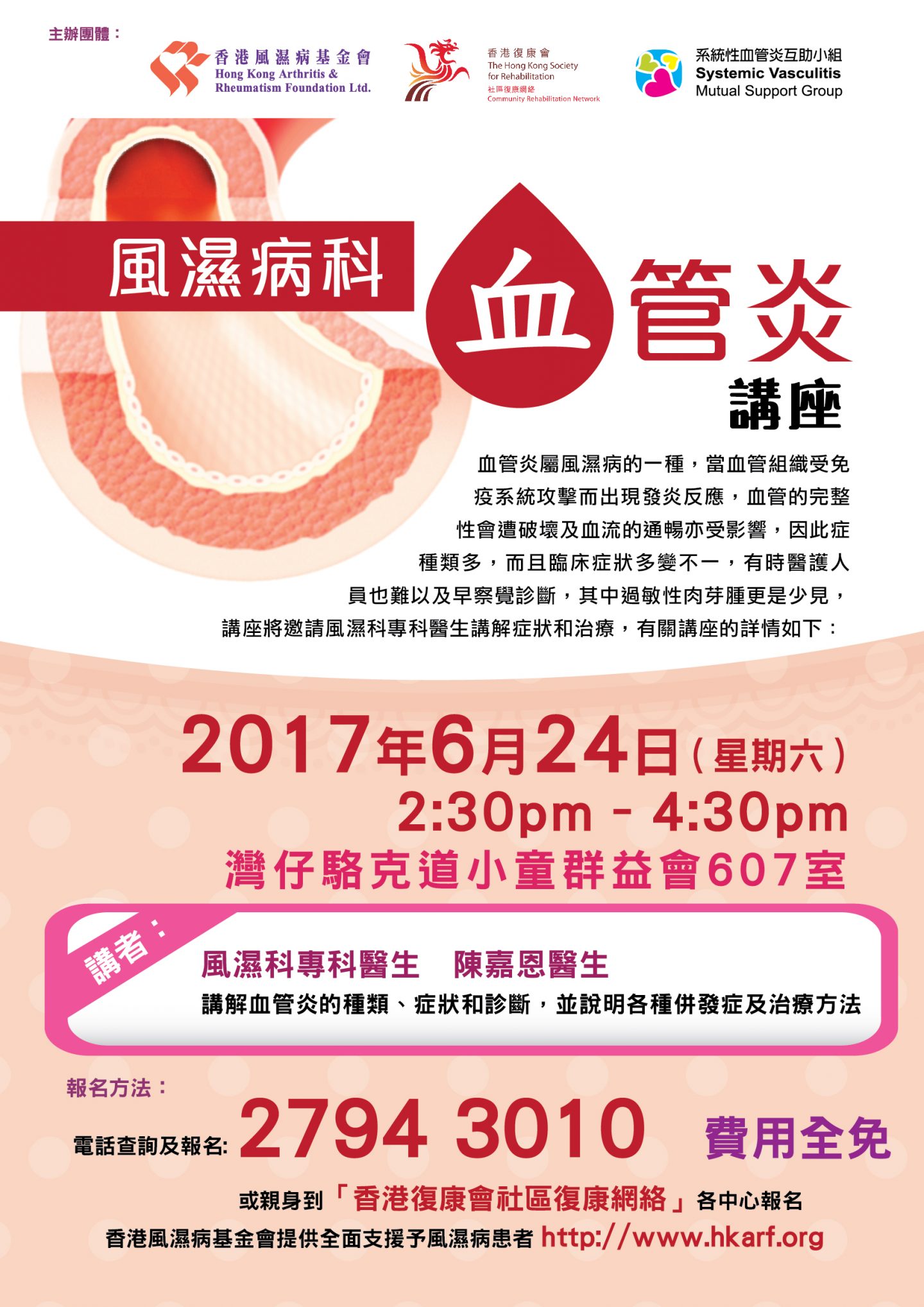 Educational Talk:
Vasculitis talk
24 June, 2017
Hong Kong Arthritis & Rheumatism Foundation (HKARF) and Community Rehabilitation Network of the Hong Kong Society for Rehabilitation (CRN) jointly organized a talk "Rheumatology – Vasculitis" on 24 June at Rm 607 of the Boys' and Girls' Clubs Association of Hong Kong. There were a total of 80 participants on that day.
Dr. Chan Ka Yan Helen shared with the audience the classification, symptoms and diagnosis of vasculitis. According to Dr. Chan, the symptoms are varied with the size and location of the blood vessels. For example, large vessel vasculitis can cause paralysis while immune complex small vessel vasculitis can cause glomerulonephritis and nail bleeding. Patients are often misdiagnosed as having other diseases, such as skin problem, kidney disease, rheumatoid arthritis, stroke and atherosclerosis. This may lead to inappropriate treatment and delayed treatment.
Dr. Chan then gave an in-depth introduction to eosinophilic granulomatosis with polyangiitis (EGPA). At present, doctors adopt the classification criteria introduced by the American College of Rheumatology in 1990 for diagnosis. People with four or more positive criteria will be diagnosed with EGPA. Dr. Chan added that the French Vasculitis Study Group has developed an assessment method "Five Factor score" to predict the risk of necrotizing vasculitis, providing a more accurate assessment to patients. Dr. Chan also reminded the audience to have a balanced diet and exercise on a regular basis to maintain health.
In the sharing session, Clara, the convenor of Systemic Vasculitis Mutual Support Group, shared her own feelings of illness. After that, Ms. Chan, a patient suffering from allergic granulomatosis for more than 20 years, said that she has not been diagnosed with allergic granulomatosis until the medical advancement had made a great progress in the recent 10 years. Disease should be treated in the early stages. They encourage the audience to seek medical treatment as soon as possible when illness of vasculitis is suspected.
The talk gave the public a better understanding of vasculitis. Participants were satisfied with the contents and arrangements of the talk, and looking forward to the upcoming talks on related topics.