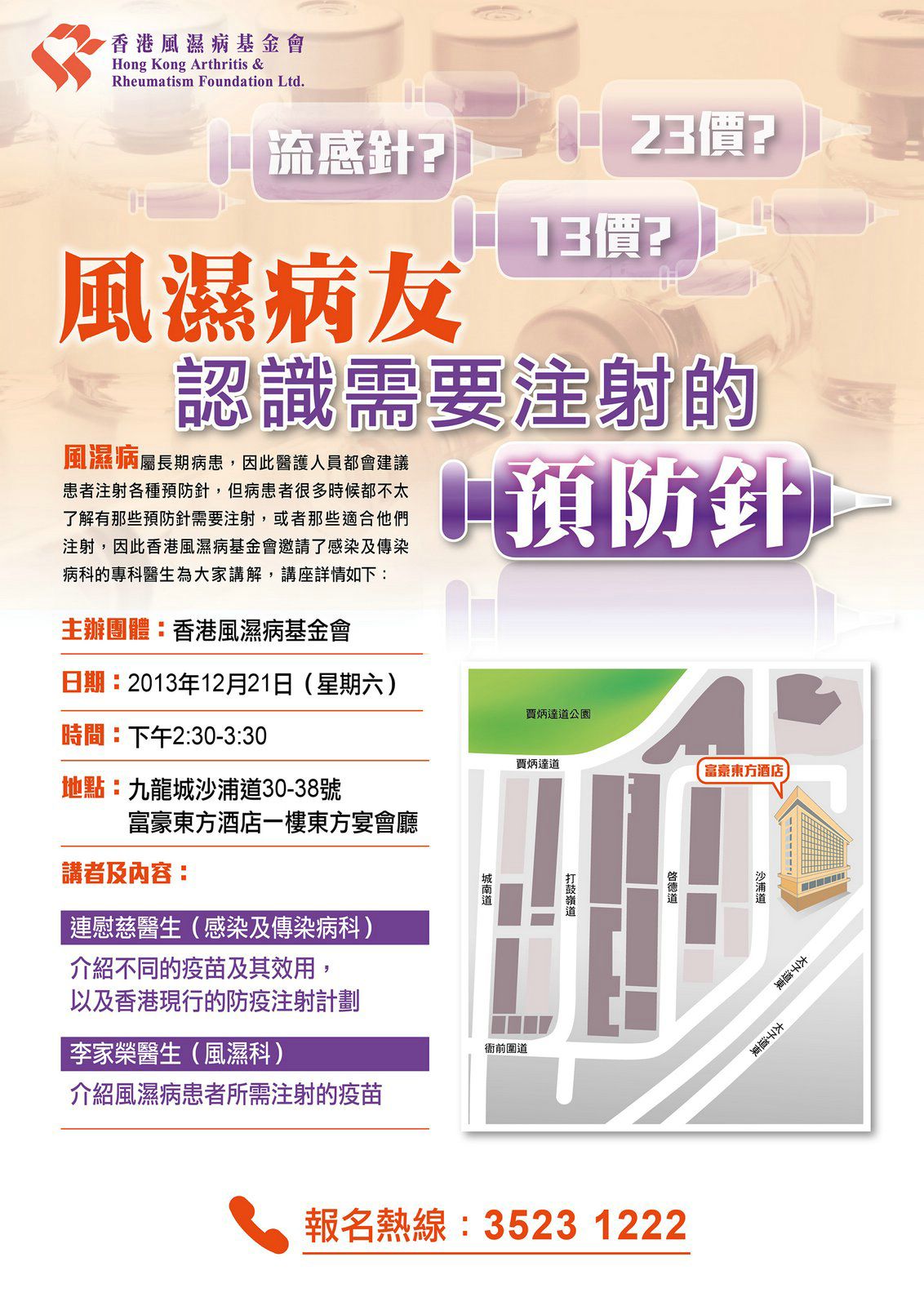 Health talk – Vaccination for arthritis patients
21st December 2013
Health talk about vaccination for arthritis patients was taken part in Regal Oriental Hotel Oriental Ballroom on 21st December 2013. The talk aimed to enhance patients' understanding of vaccination. There were 80 participants in total.
The talk was started by Dr. Ada LIN, a specialist in Infectious Disease, to introduce the basic information of vaccination and emphasize the importance of choosing a suitable vaccine at a right moment. She focused on the characteristics, target groups and vaccination procedure of Influenza Vaccine (TIV) and Pneumococcal Vaccine (PCV), two common inactivated vaccines. The difference and utility of 23-valent pneumococcal polysaccharide vaccine (23vPPV) and pneumococcal conjugate vaccine (PCV13) was illustrated. Moreover, the need for live vaccines including Zoster vaccine and varicella vaccine (VZV) was explained. Dr. LIN reaffirmed patients should seek advices from doctors to assess their condition and understand the nature of vaccines first. This could enhance the effectiveness of vaccination.
Apart from this, the talk was continued by Dr. Gavin LEE, a specialist in Rheumatology, to specify the needs for vaccination of rheumatology patients. He shared the result of international research findings and gave general advices to participants. He reminded patients to assess their health conditions and medications before vaccination.
Most participants were satisfied with the arrangement and content of the talk. This helped them to clarify the falsehoods of vaccination. They were interested in the effectiveness of and vaccines that specified for rheumatology patients. They hoped to participate to these activities in the future.