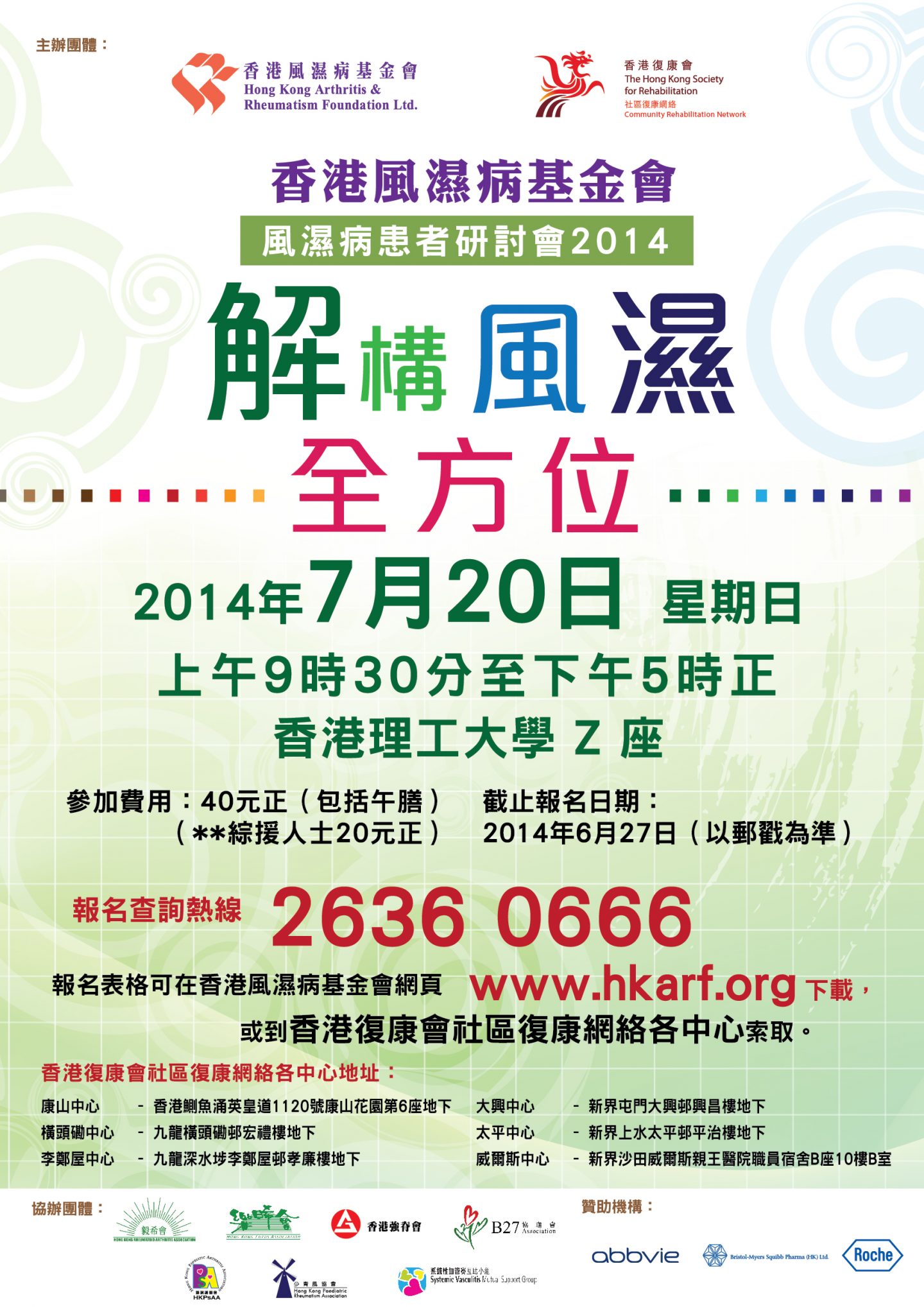 Patient Conference 2014
Co-organized by the Foundation and the Community Rehabilitation Network (CRN), the Arthritis Patient Conference 2014, with the theme of "Well-rounded Discussion on Rheumatism", was held successfully at Block Z, The Hong Kong Polytechnic University, on 20th July 2014. There were a total of 376 participants. The Conference aimed to promote awareness and better understanding of arthritis diseases among the general public, and to provide more in-depth, most up-to-date and well-rounded information on dealing with the diseases.
The event commenced with an Opening Ceremony hosted by: Dr. KO Wing-man, Secretary of Food and Health; Prof. Cecilia LI-TSANG, Department of Rehabilitation Sciences of PolyU, Prof. TAM Lai-shan, President of The Hong Kong Society of Rheumatology; Dr. CS LAU and Mr. David YAU, Honourable President of the Foundation; Mr. CHAN Kar-lok, Vice Chairman and Dr. Gavin LEE, Vice Chairman and Convenor of Education Committee. It was followed by a total of 8 concurrent sessions separated into 4 Series. The topics are as follows:
1st Series:
1) Biologics - Dr. Gavin LEE
2) Steroid - Dr. Carmen HO
2nd Series:
3) Vaccination and Infection Control - Dr. Ada LIN 及 Ms. Judy YU
4) Family Planning - Dr. KY MA & Ms. Gladys KWOK
3rd Series:
5) Eye Disorders - Dr. Dexter LEUNG
6) Joint Replacement - Dr. WM TANG
4th Series:
7) How to eat healthy? - Ms. Josephine HO
8) How to sleep well? - Ms. Pauline WAN
An ultrasound experience was provided in the conference. Speakers of the first two series would ask some questions in light of the lecture. If participants answered correctly, they would be eligible for a simple check. Besides, there was a Q&A section at the end of every session. Participants actively addressed their doubts and speakers answered most inquiries with patience.