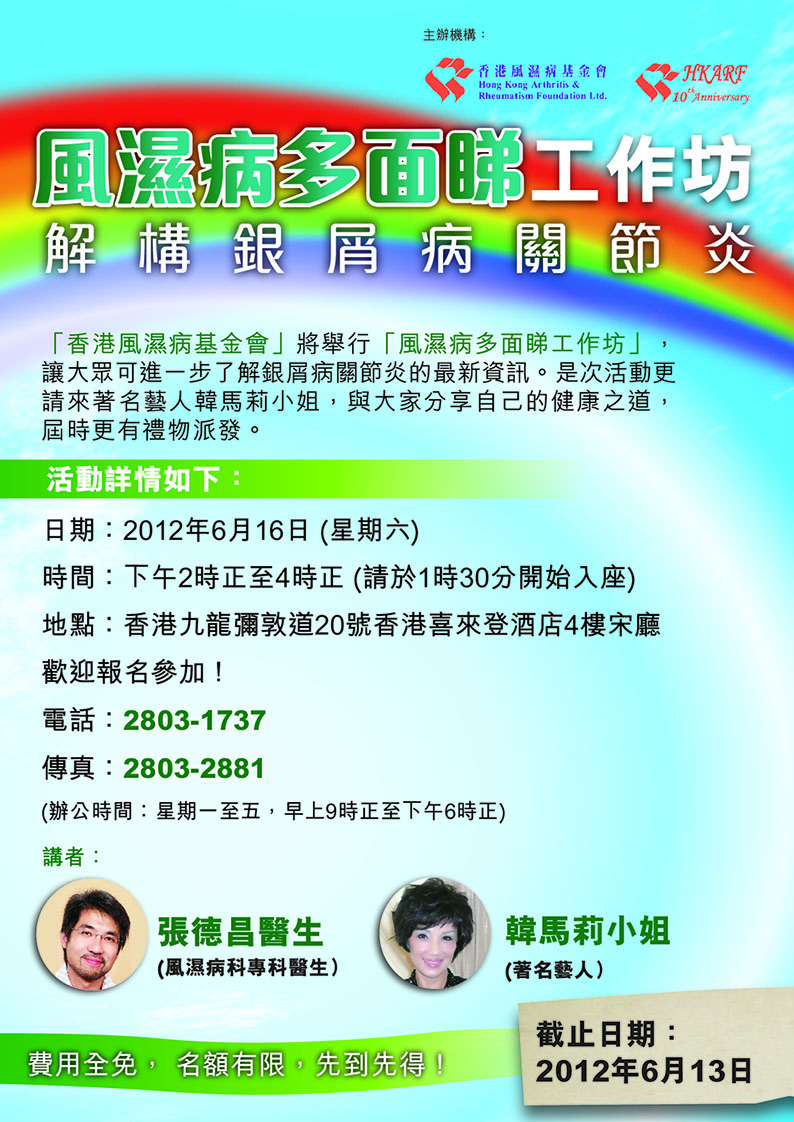 Public Talk –Psoriatic Arthritis (PsA)
16 June 2012
The "Public Talk – Psoriatic Arthritis (PsA)" was held at Sung, 4/F, Sheraton Hong Kong Hotel, on 16 June 2012. The talk aims to enhance people's understanding of the up-to-date information and daily care of PsA. There were about 170 participants.
The talk started with a presentation conducted by Dr. CHEUNG Tak-cheong, a Specialist in Rheumatology, who illustrated the PsA symptoms with some photos, and provided a clear explanation of the different remedies. He also introduced the new trend of treatments and the daily self-care methods for PsA patients. The talk followed by a Q&A session. Participants actively asked questions and Dr. CHEUNG answered with patience to solve their doubts.
After that, Ms. Joe TSANG, Chairperson of "Hong Kong Psoriatic Arthritis Association" (HKPsAA), shared her own experience of suffering from PsA – she recalled how she noticed of having PsA, how she received treatments and how she overcame the physical and psychological difficulties caused by the disease. She also highlighted the importance of self's health and mutual support among PsA sufferers. She hoped that her own experience would be an encouragement for other PsA patients and their families.
Lastly, Ms Mary HON Ma-li, a famous artist, shared her own methods in joints protection and care. She encouraged sufferers to be bold when facing their disease, and urged the participants to give supports and care to their family members or friends who, if any, suffered from stubborn disease.