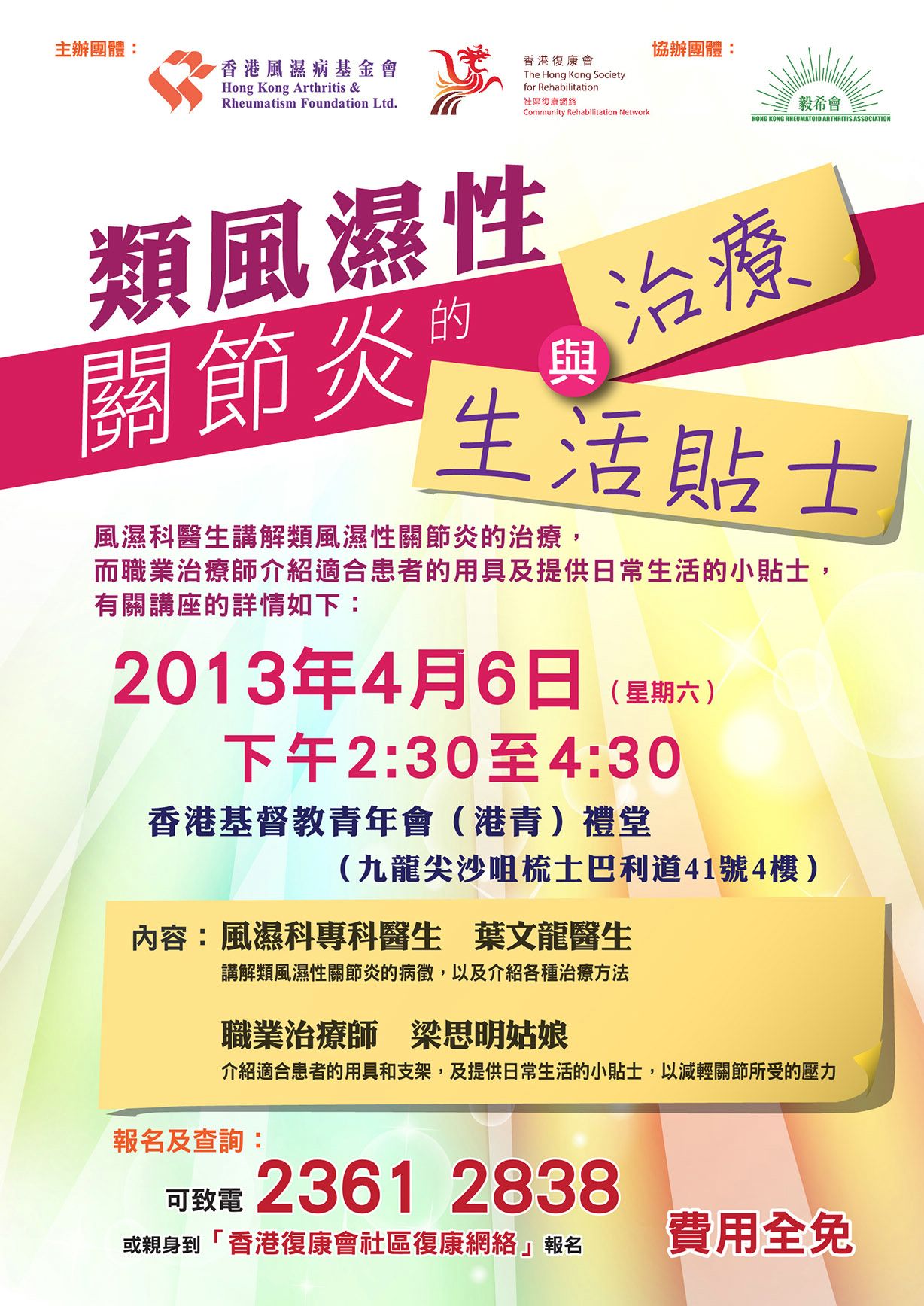 RA Talk – Treatment and Tips for Daily Life
6th April 2013
To encourage patients facing the difficulties of Rheumatoid arthritis (RA), a talk about RA – "treatments and tips for everyday life" was held at YMCA of Hong Kong on 6th April 2013. There were 167 participants in total.
At the beginning, the Hong Kong Rheumatoid Arthritis Association (HKRAA) briefly introduced their objectives, mission, and services in between patients and the public.
And then, Dr. YIP Man Lung, a specialist in rheumatology, started the talk by mentioning the symptoms and diagnoses of RA. By using the Disease Activity Score and its modified version including 28 joint counts (DAS28) as a tool to assess the clinical remission of RA patients, Dr. YIP emphasized that the purpose of the treatment for RA patients is to prevent the joint getting worse. Therefore, early treatment pays an important role to people suffered from RA.
Apart from this, the talk was conducted by Ms. Kristan LEUNG, an operational therapist, who shared methods about protecting joint. Since RA most commonly involved small joints of the patients, especially their hands, which definitely affected their daily lives. Therefore, Ms. LEUNG mainly focused on sharing some tips and introducing some equipment to patients for doing housework easier.
The talk then followed by a Q&A session where participants actively asked questions. Dr. YIP and Ms. LEUNG answered with patience to solve their doubts. The audiences found the information from the talk useful and hoped to participate in the activities in the future.