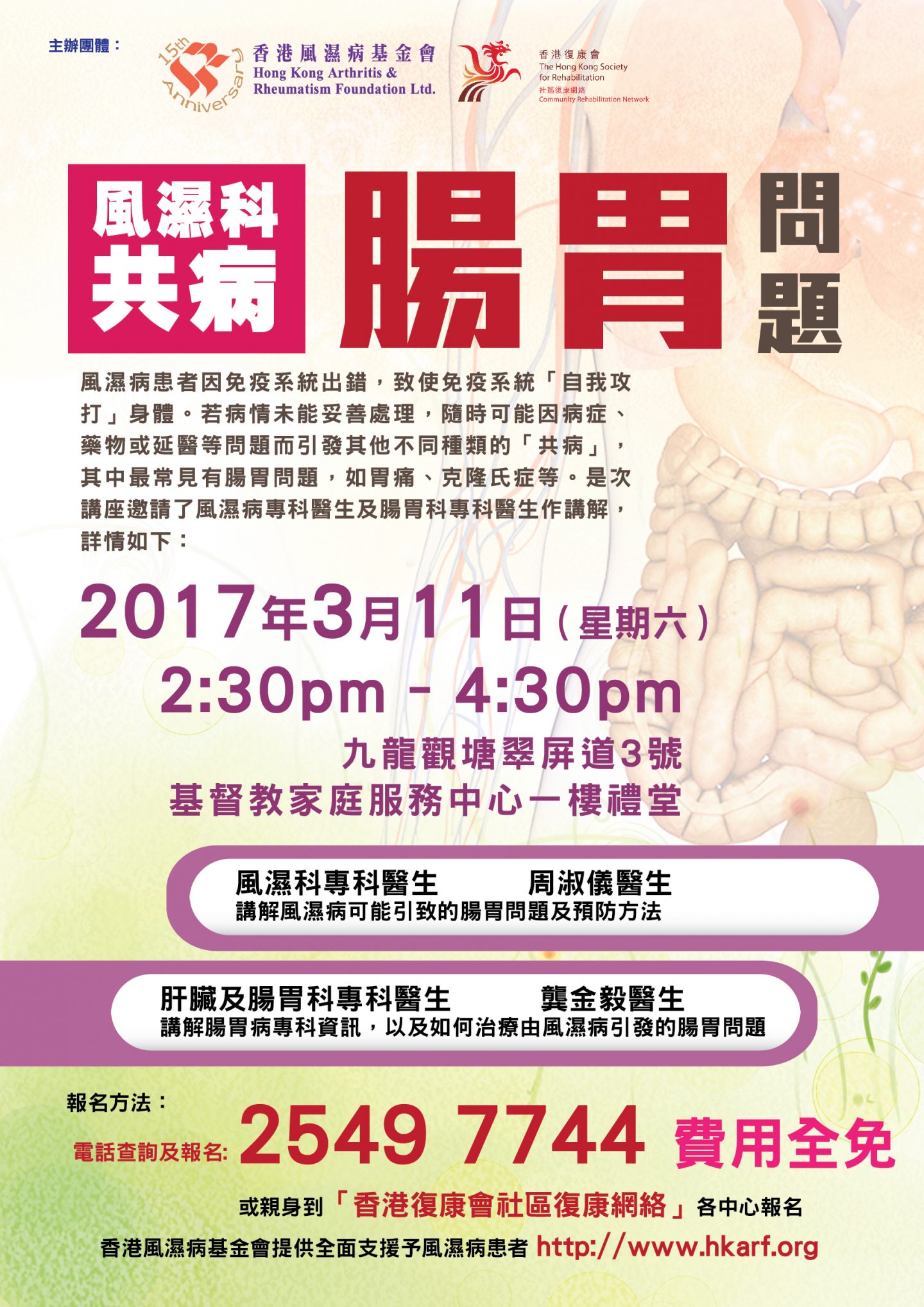 Seasonal Talk:
Compliation – Gastroenterology

11 March, 2017
Hong Kong Arthritis & Rheumatism Foundation (HKARF) and Community Rehabilitation Network of the Hong Kong Society for Rehabilitation (CRN) jointly organized a quarterly talk "Comorbidities in rheumatic disease: gastrointestinal problems" on 11 March, at the Auditorium of Christian Family Service Centre. There were a total of 158 participants on that day.
Dr. Chau Shuk Yi Lucia, a rheumatologist, first introduced the gastrointestinal illnesses caused by rheumatic diseases. Gastrointestinal tract may be harmed when people are taking anti-inflammatory drugs for long periods of time. Fortunately, new developed analgesics have greatly reduced this common side effect. Dr. Chau reminded patients to take the analgesics after a meal as the drugs can cause gastrointestinal discomfort. For instance, patients with ankylosing spondylitis (AS) may develop Crohn's disease, a rheumatism-related gastrointestinal disorder. Behcet's disease may lead to mouth sores, eye pain and red eye, as well as gastrointestinal inflammation. In addition to vomit and blood in the stools, patients may suffer from paralytic ileus. Therefore Dr. Chau encouraged patients to talk to their doctors in order to receive a proper clinical examination and treatment if they had any gastrointestinal discomfort.
Dr. Kung Kam Ngai, a gastroenterologist, introduced the diagnostic and therapeutic tools to the audience. Endoscopy is used for gastric ulcer and duodenitis, whereas colonoscopy is used for inflammation of large intestine and colorectal cancer. Dr. Kung further explained the common gastrointestinal disorders in patients with rheumatologic disease. Inflammatory bowel disease (IBD) and ulcerative colitis (UC) are often seen in ankylosing spondylitis (AS) patients and rheumatoid arthritis (RA) patients respectively. These diseases can be diagnosed with blood test and biopsy. The symptoms may include diarrhea, abdominal pain and distension, fever and weight loss. Dr. Kung urged patients to treat the gastrointestinal problems in time as it can cause severe diarrhea and blood in the stools. Steroids and immunosuppressive agents are used for the treatment. For severe cases, patients may need to adopt biologics. Patients may even need to receive endoscopic surgery if they have gastrointestinal bleeding.
The participants enjoyed the talk and felt grateful for the presentation and the responds from the two speakers. All in all, they were satisfied with the contents and arrangements of the talk and would like to participate in the upcoming talks on related topics in the future.