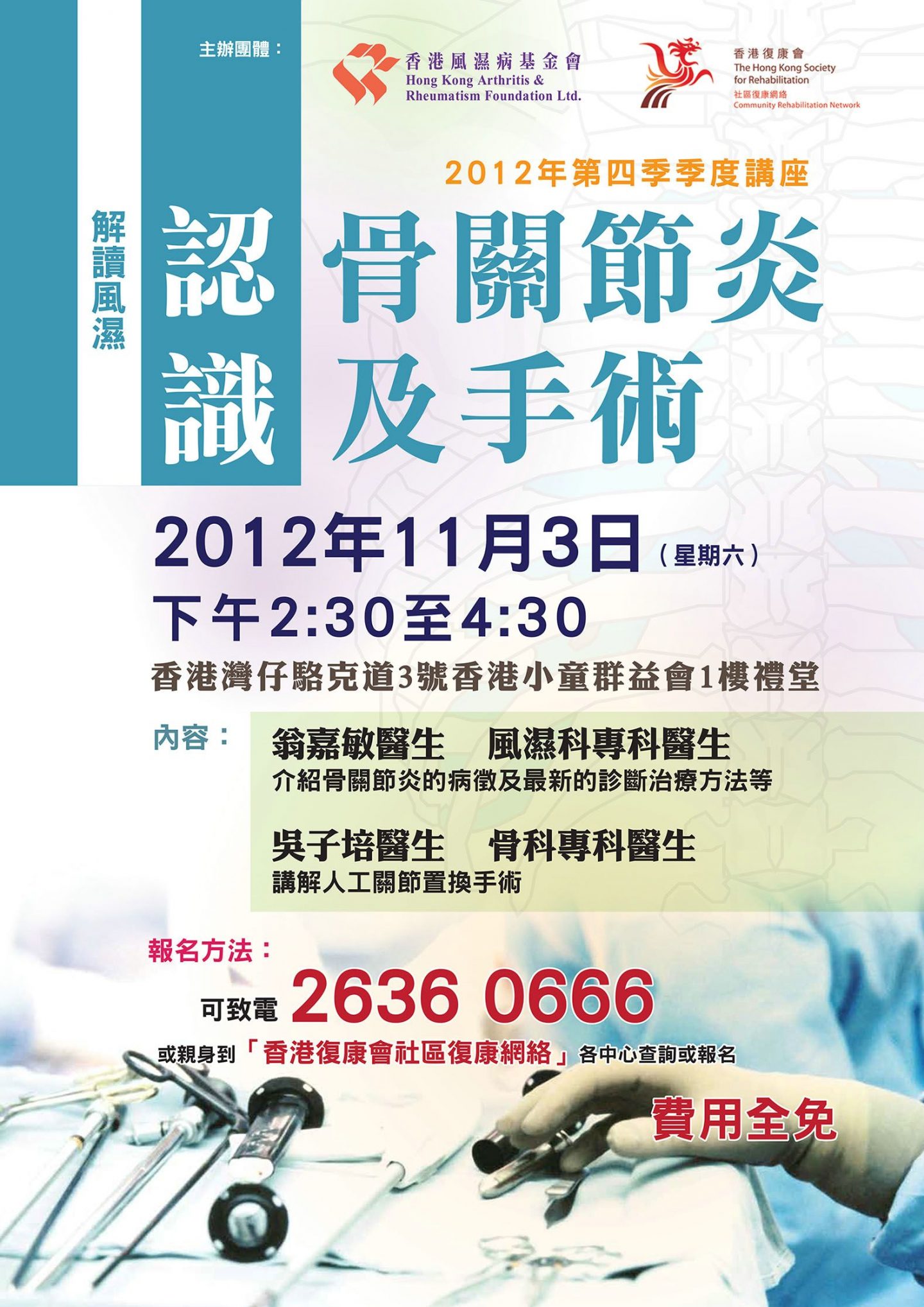 2012 Seasonal Talk – Osteoarthritis (OA) & Surgery
3 Nov 2012
The "Public Talk – Osteoarthritis (OA) & Surgery" was held at Auditorium, 1/F, The Boys' & Girls' Clubs Association of Hong Kong, Wan Chai. The talk aims to enhance people's understanding of the up-to-date information, including treatments and surgery, of OA. There were 125 participants.
The talk started with a presentation conducted by Dr. Amy YUNG, a Specialist in Rheumatology, who provided a clear explanation of the factors, symptoms and diagnosis of OA with some photos. She also explained various treatments that are not involved of drugs. These treatments include education & counseling, sports, stress control, physiotherapy and occupational therapy. She also introduced treatments of using drugs and other kinds.
After that, Dr. NG Tsz-pui, a Specialist in Orthopaedics, explained the symtoms, diagnosis and examination methods of the pathological changes of OA with some photos and videos. He then introduced different non-surgery and surgery treatments that aim at those pathological changes of OA. While he explained the surgery of total joint replacement, he took out a knee replacement model and let the participants pass it around. The participants showed great interest in the model and examined it carefully.
The talk followed by a Q&A session. Participants actively asked questions. Dr. YUNG and Dr. NG answered with patience to solve their doubts.
Please click below link to download the notes:
Dr. Amy Yung's notes
Dr. NG Tsz-pui's notes