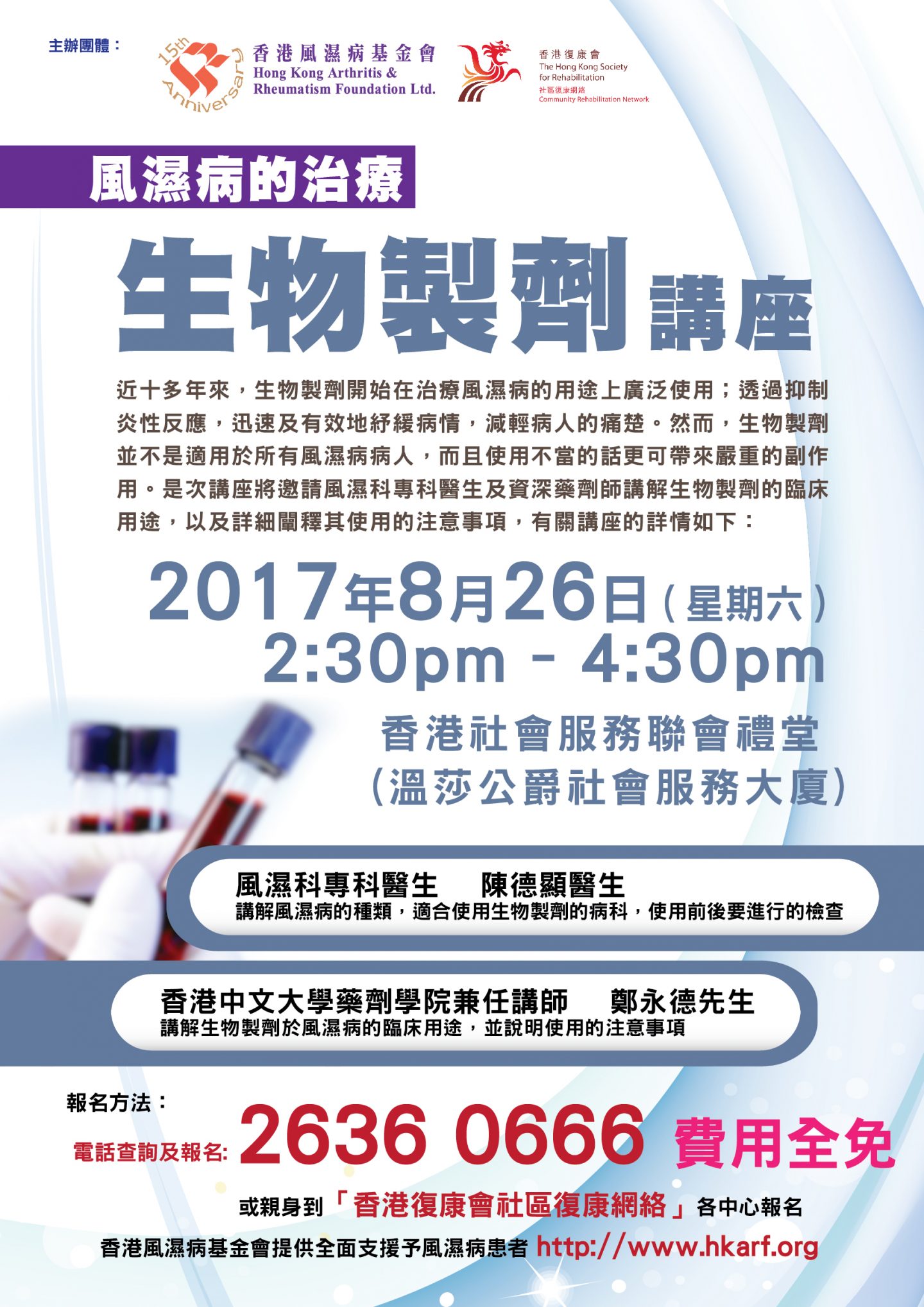 Treatment of rheumatism – Biologics

26 August, 2017
Hong Kong Arthritis & Rheumatism Foundation (HKARF) and Community Rehabilitation Network of the Hong Kong Society for Rehabilitation (CRN) jointly organized a talk "treatment of rheumatism – biologics" on 26 August at auditorium, Duke of Windsor Social Service Building. There were a total of 247 participants on that day.
During the talk, Dr. Chan Tak Hin, the chairman of the Foundation and a rheumatologist, compared and contrasted the biologics with other common medication, and then explained the prescription guidelines for biologics and its safety issues. Dr. Chan pointed out that the production of biologics is complicated and so the structure does. Biologics can be applied to treating rheumatic diseases like rheumatoid arthritis, ankylosing spondylitis, enteric arthritis, psoriasis and psoriatic arthritis, lupus erythematosus and vasculitis. Up to Dec 2016, more than half of the patients receiving biologics therapy suffer from rheumatoid arthritis. The main reasons for withdrawal of biological therapies are lack of efficacy, adverse effects and unaffordable cost.
Then Mr. Franco Cheng, the part-time lecturer of the School of Pharmacy, the Chinese University of Hong Kong, explained the precaution of biologics. To reduce the chance of infection, patients should clean the injection site before injecting the biologics. A certain intravenous injection biologics may cause infusion-related reactions, including flushing, fever and difficulty in breathing. Moreover, patients might need to take other drugs when the indices for platelets, white blood cells and cholesterol were altered by biologics therapy. Patients should seek medical advices immediately if feel uncomfortable. It is believed that the expiration of drug patents and introduction of biosimilars to the market can prompt to the reduction of the cost of biologics.
The talk gave the public a better understanding of biologics. Participants were satisfied with the contents and arrangements of the talk, and looking forward to the upcoming talks on related topics.
Please click below link to download speakers' powerpoint:
Dr Chan Tak-hin
Mr. Franco Cheng