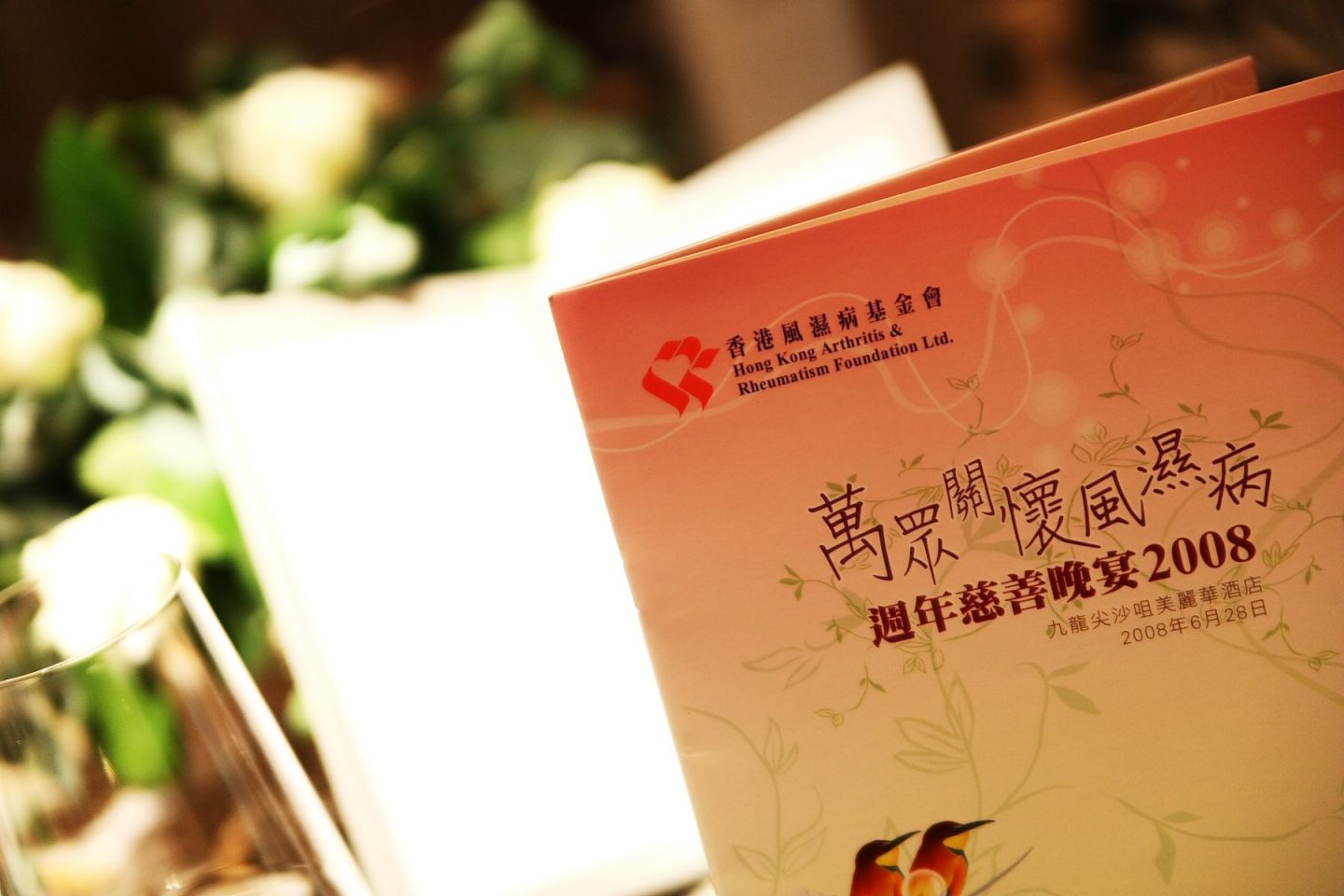 Please click below link to download the forms:
The Donation & Reservation Form
The Compliment Advertisement Form
The Hong Kong Arthritis & Rheumatism Foundation was founded in October 2001 under the patronage of Prof Sir Harry Fang, GBM and the guidance of Presidents Mr. MB Lee, Dr. David Fang, Dr. Tam Wah-ching and Prof. Lau Chak-sing, as well as a number of honorary advisors. The mission of the Foundation is to improve the quality of life of people who suffer from arthritis and rheumatic diseases. We would like to achieve this through patient and public education, direct support of patients in financial needs, and local research on arthritis and rheumatic conditions. The direct support scheme was set up recently to to provide direct support for needy patients to purchase expensive drugs, as well as to help patient groups to organize educational and social activities.
As a charitable organization without government support, our source of funding relies solely on corporate and individual donations through various fund raising activities. This year, the Foundation will organize a charity dinner as our annual fund raising event.
The dinner is scheduled on Saturday, 28 June 2008 at Miramar Hotel, Tsim Sha Tsui. Cocktail reception will begin at 6:30 pm and dinner will start at 7:30 pm when we would like to invite you to join our annual charity dinner. The programme will be entertaining and informative which includes arthritis patient sharing, singing performance, charity auction and charity karaoke.
Meanwhile if you have any queries concerning the above, please do not hesitate to contact Miss Den Law of our office at 2346 6336.
With deepest gratitude,
Sincerely yours,
Mr. David YAU
Chairman
and
Mr. Kar-lok CHAN
The Convenor of the Fund Raising Committee
Sponsorship Method
Dinner Ticket
Single Ticket (for 1 person)……..HK$1,300
Table Ticket (for 12 persons)….HK$15,000
Compliments Advertisement
Full Page (A4) Color……………….HK$5,000
Half Page (A5) Color……………….HK$3,000
Full Page (A4) Black & White……HK$2,500
Half Page (A5) Black & White……HK$1,500