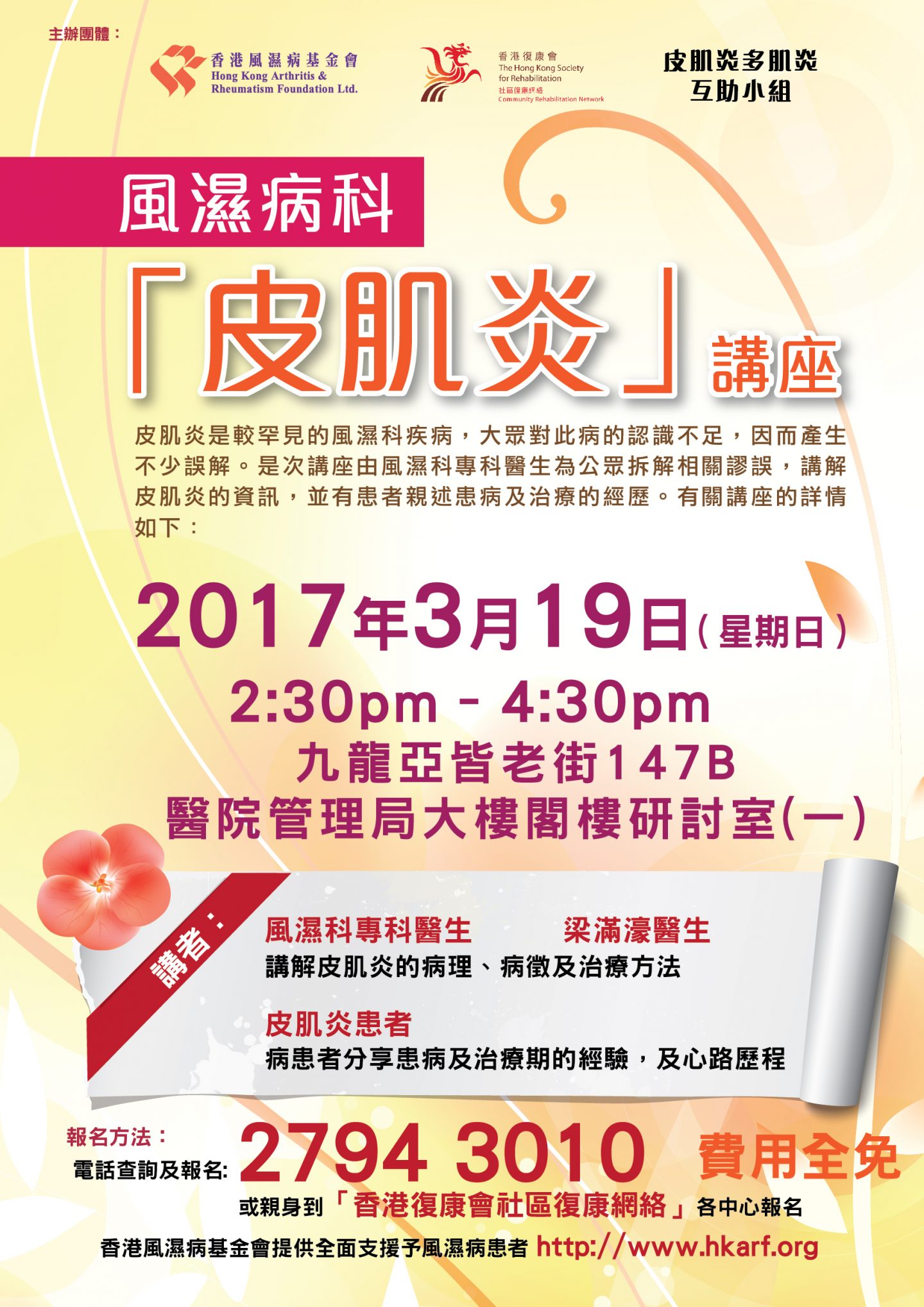 Educational Talk: Dermatomyositis
19 March, 2017
Hong Kong Arthritis & Rheumatism Foundation (HKARF) and Community Rehabilitation Network of the Hong Kong Society for Rehabilitation (CRN) jointly organized the "Rheumatology – Dermatomyositis Talk" on 19 March at meeting room 1 of the Hospital Authority Building. There were 154 participants on that day.
The talk began with the introduction of pathology and treatment of dermatomyositis by Dr. Leung Moon Ho Alexander. As the name suggests, dermatomyositis refers to the inflamed skin and muscle. Compared with other rheumatic disease, the symptoms of dermatomyositis are unobvious. The major symptoms include muscle weakness, characteristic skin rashes, ulcers surrounding the nails and increased sensitivity to light. The disease may be diagnosed based upon a muscle biopsy, elevated levels of certain muscle enzymes and electromyography (EMG). Patients with dermatomyositis are more likely to develop cancer than general public. Cancer appears to occur most frequently within the first two years of the diagnosis of dermatomositis. Therefore, regular checkup is essential. Besides, since the adverse effect may be appeared in a certain areas of the body, patients are always treated by different specialists, namely those from rheumatology, neurology, pulmonology, infection control, occupational therapy and physiotherapy. Dr. Leung advised patients to keep good communication with the health professionals, receiving the most update information.
In addition to medical care, patients can also improve the condition by adopting a healthy lifestyle. Patients should moisture the skin regularly and apply sunscreen when they are exposed to the sunshine. Moreover, a proper wound handling can prevent wound inflammation and a daily 30-minute aerobic exercise can remedy the muscle weakness. According to the newspaper established recently, dermatomyositis is associated with unclean environmental. However, Dr. Leung pointed out that no studies have shown the causal relationship between unclean environment and dermatomyositis. Nevertheless, personal and home hygiene do play an important role to everyone.
After that, Mr. Cheung Wan Cheun, a patient with dermatomyositis, shared his fascinating story to the public. The patient self-help group allows patients to exchange the information and mental support with each other. Despite the fluctuating conditions, he has gained much support from the group.
The information of dermatomyositis can be effectively delivered to the public through the talk. Participants are satisfied with the contents and arrangements of the talk and would like to participate in the upcoming talks on related topics in the future.