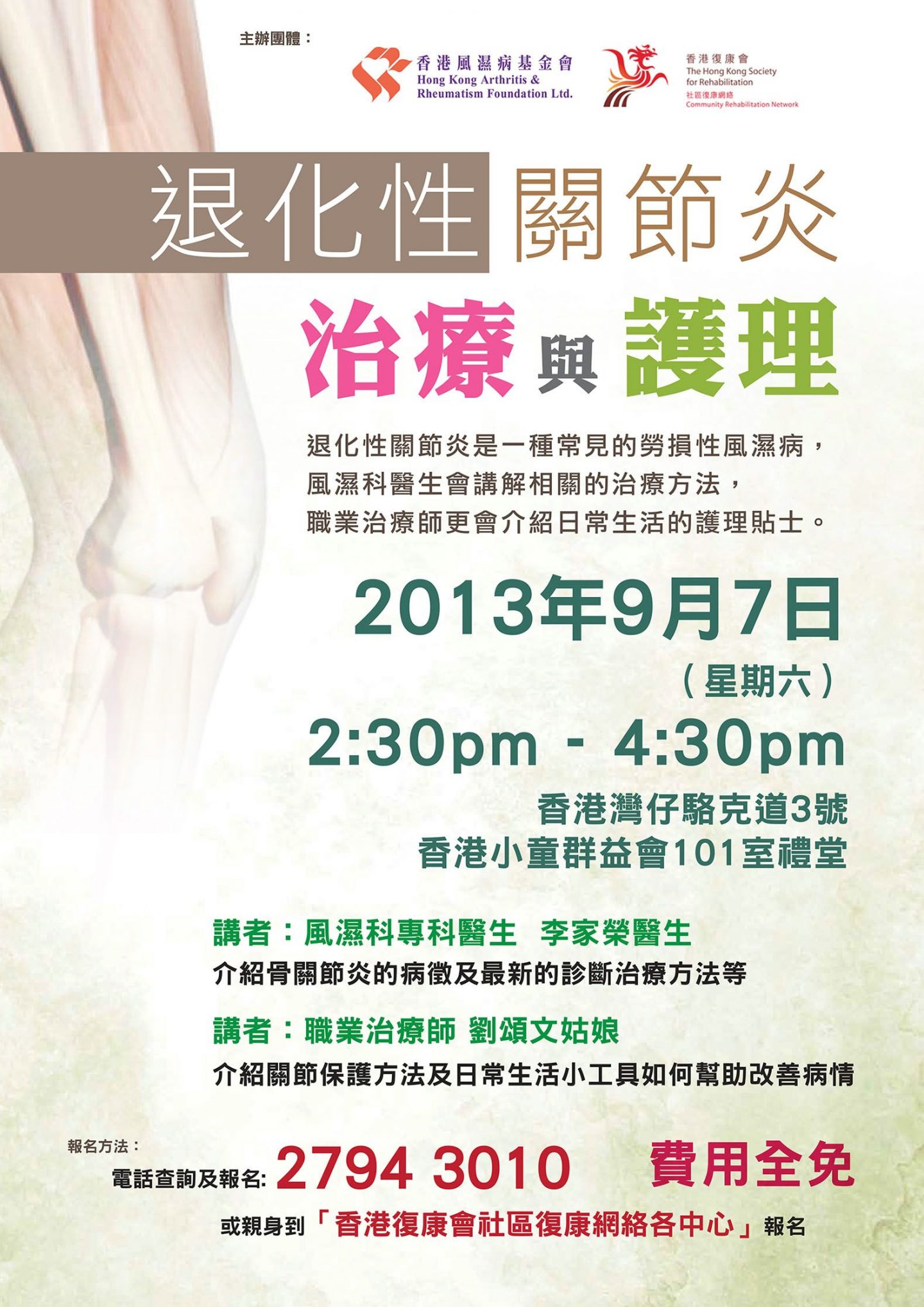 Osteoarthritis Talk – Treatment and Care
7th September 2013
Osteoarthritis Talk – Treatment and Care was taken part in Room 101, Auditorium, The Boys' & Girls' Club Association of Hong Kong on 7th September 2013. The talk aimed to enhance people's understanding of Osteoarthritis and its treatment. There were 176 participants in total.
The talk was started by Dr. Gavin LEE, a specialist in Rheumatology, to clarify the falsehoods concerning the difference between Osteoarthritis and Rheumatoid arthritis. Dr. LEE further explained the causes and treatment of Osteoarthritis including patient education, physiotherapy and occupational therapy etc. He reminded the participants to be aware of the types and amount of exercises they performed and had sufficient rest at the same time. Also, there was a high variety of medication. Dr. LEE suggested participants should understand the function, side-effect and usage of different medication before taking and did not hesitate to seek advice from doctors if they had any enquiries. For surgeries, it could ease the pain caused by osteoarthritis and restore mobilization though many felt anxious and were reluctant to this subject. Dr. LEE encouraged the participants to keep an open-mind and communicate with the professionals proactively to face the diseases. Participants asked questions mainly concerning artificial joint actively after the end of Dr. LEE's speech while Dr. LEE answered with patience to solve their doubts.
Apart from this, the talk was continued by Ms. Joyce LAU, the occupational therapist who shared the principals of caring joints. Firstly, Ms. LAU introduced the symptoms of Osteoarthritis briefly and made daily examples to enhance audience's understanding on the correct practice of heat and cold therapy, the importance of proper gesture, introducing assistance aids to alleviate the pressure of joints. Besides, Ms. LAU taught the participants the correct way of using knee pad with enthusiastic response. Most of them followed the order immediately. Lastly, Ms. LAU answered the enquiries with great patience and showed a simple exercises and emphasized that everyone should be active and do exercise regularly.
Most participants were satisfied with the arrangement and content of the talk. They were interested in the symptoms and treatment of Osteoarthritis and hoped to participate to these activities in the future.