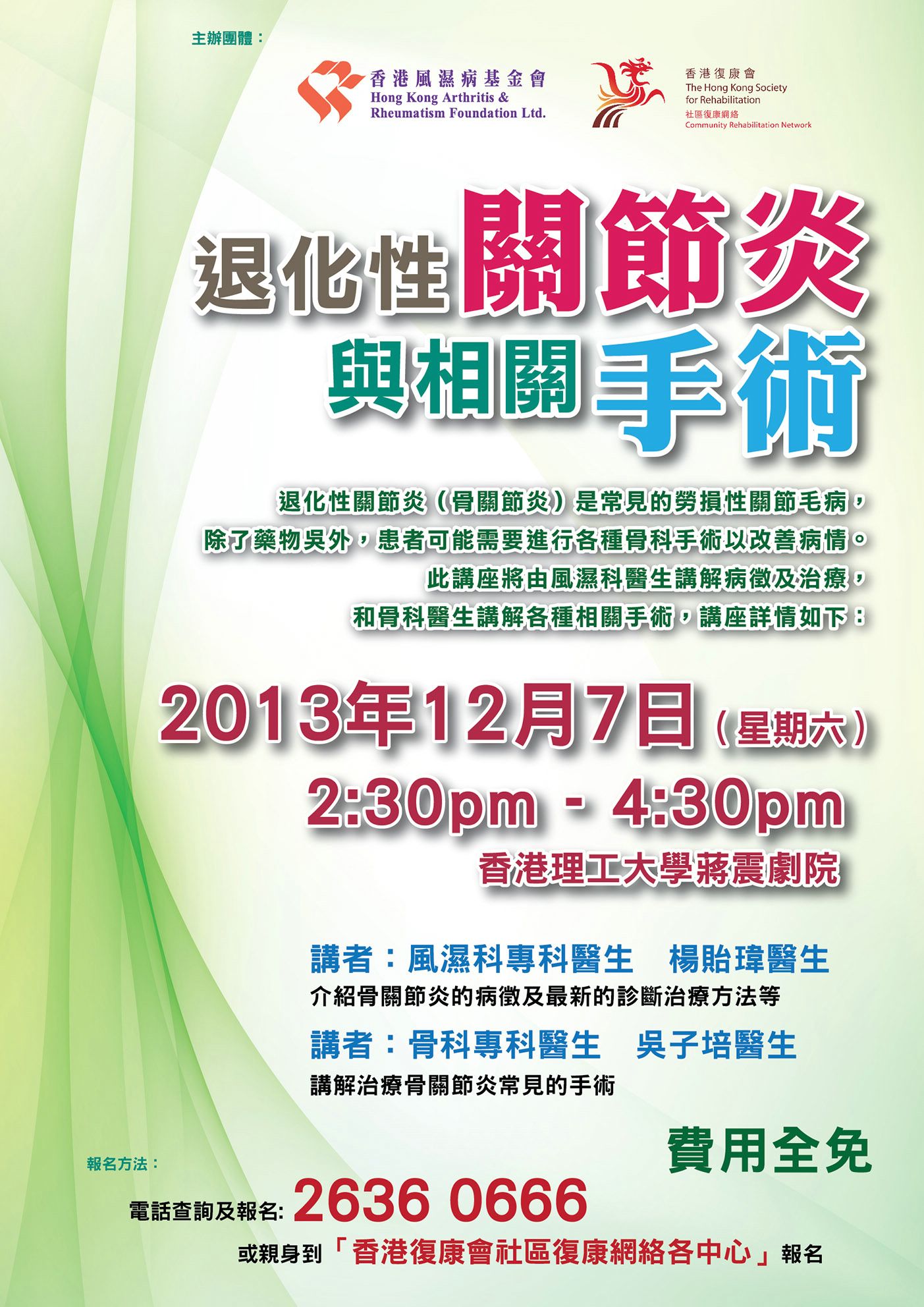 Osteoarthritis Talk – Treatment and Surgery
7th December 2013
Osteoarthritis Talk – Treatment and Surgery was taken part in Chiang Chen Studio Theatre, The Hong Kong Polytechnic University on 7th December 2013. The talk aimed to enhance people's understanding of the treatment and surgery of Osteoarthritis. There were 201 participants in total.
The talk was started by Dr. Albert YOUNG, a specialist in Rheumatology, to introduce the normal structure of joints and the process of inflammation. The causes and related factors of Osteoarthritis were also explained. Dr. YOUNG pointed out the differences between Osteoarthritis and Rheumatoid arthritis when discussing the methods of diagnosis. There was a great variety of treatments recently. The most important point was to stay happy and positive and understand the disorders correctly so as to reduce the chance of deterioration. Worrying about the side-effects, many patients were unwilling to take pain medications. They tried to ease the undesirable feelings by doing less exercises and staying still. A sedentary lifestyle worsened the condition. Thus, Dr. YOUNG emphasized again on the importance of pain treatment and medications. Moreover, participants should be aware of the dose of drugs. High dose of medications for external application might induce severe side-effects. It was necessary to maintain a good communication with medical personnel.
Apart from this, the talk was continued by Dr. NG Tze Pui, a specialist in Orthopaedics & Traumatology, to clarify the falsehoods of Osteoarthritis by making clear of the definition for osteophyte (bone spur), subchondral cyst formation and subchondral sclerosis. X-rays could help confirm the diagnosis while MRI might be used for further confirmation. On top of Dr. YOUNG's discussion, Dr. NG shared several treatments like orthotics and application of knee brace. Surgery might be applied for removing the loose body for more severe condition. When the above treatments failed, joint replacement might be used to restore the mobility of joints and ease pain. Participants were surprised by the differences on mobility of patient before and after the surgery. Dr. NG had kindly brought the joint replacement model to enhance the participants' understanding on this topic.
Most participants were satisfied with the arrangement and content of the talk. They were interested in the treatment especially the related surgery of Osteoarthritis and hoped to participate to these activities in the future.
Please click below link to download doctors' presentation powerpoint:
Dr Albert Young's powerpoint
Dr Ng Tze Pui's powerpoint