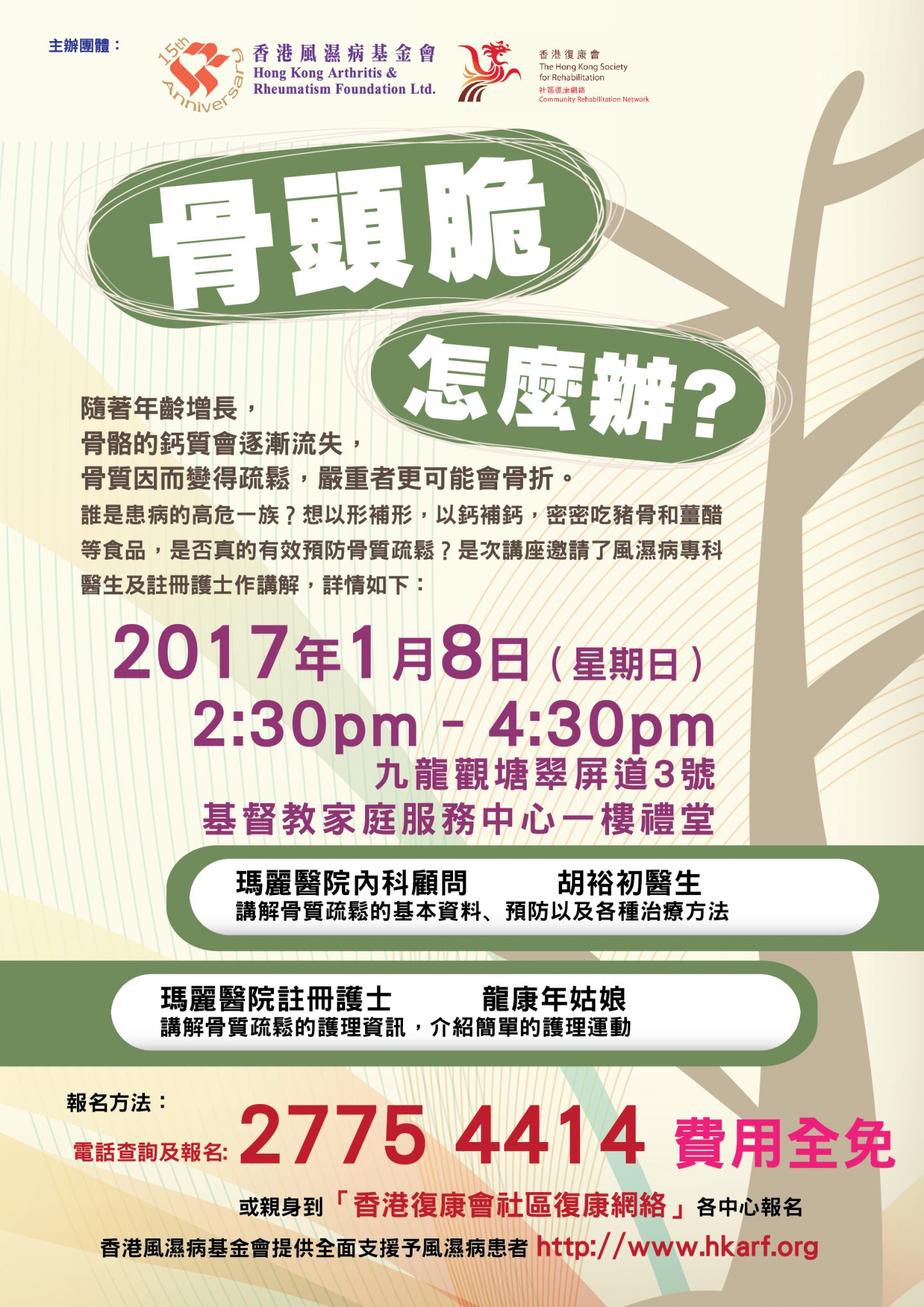 Seasonal Talk:
How to deal with osteoporosis?
8 January, 2017
Hong Kong Arthritis & Rheumatism Foundation (HKARF) and Community Rehabilitation Network of the Hong Kong Society for Rehabilitation (CRN) jointly organized a talk "Tackling osteoporosis" on 8 January, at the Auditorium of Christian Family Service Centre. There were a total of 106 participants on that day.
Dr. Woo Yu Cho, a consultant of the medicine department of Queen Mary Hospital, first introduced the causes and treatment of osteoporosis to the audience. When the calcium level and bone density declines with age, bones weaken and over time can become brittle and prone to fracture. The most common fracture associated with osteoporosis occurs at thoracic vertebrae, wrist bones and pelvis joints. Patients who suffer from rheumatology should pay special attention when they are medicated with steroids as the bone density may decline. In addition, people with a family history of osteoporosis, who are risky to osteoporosis, are advised to receive x-ray imaging for diagnosing the disease. Dr. Woo added that the side effects of oral medication commonly used in osteoporosis have been significantly reduced when compared with the old drugs. Patients do not have to worry too much about the medication as the intake method is simple.
After that, Ms. Loong Hong Nin Connie, a registered nurse of Queen Mary Hospital, illustrated the non-medication intervention of osteoporosis to the participants. Prevention is better than cure. People are advised to do weight-bearing exercises regularly in order to strengthen the muscles for supporting the body and reducing the load of the bones. Meanwhile, a calcium and vitamin D-rich diet, such as sandy fish, tuna and milk, can also strengthen the bones and prevent osteoporosis. Apart from that, people can also make vitamin D naturally through a 15 minutes sun exposure. However, alcohol, cigarettes, and coffee should be avoided. In the end, Ms. Loong raised the audience's awareness of osteoporosis via a video clip as well as a simple exercise demonstration.
Since the knowledge of osteoporosis prevention has been enhanced, the participants were satisfied with the content and arrangement of the talk. They were also looking forward to the upcoming talks on related topics in the future.